Profile

Paid Account
Created on 2011-12-31 01:04:25 (#1340623), last updated 2017-02-24 (29 weeks ago)
336 comments received, 4,298 comments posted
54 Journal Entries, 32 Tags, 0 Memories, 15 Icons

About
| | |
| --- | --- |
| Name: | notsogroovy |
| Birthdate: | Jun 19 |
| | |
| | |

Mini Bio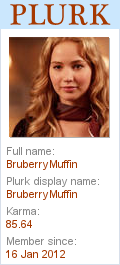 She's not entirely sure how old she is or where she came from, but she knows when her life started: when she met one boy not much older than she was who looked through her skin to see the person inside. Charles Xavier saved her that day and every day for years to come. As she grew up, her life was defined by this one young man. He would become her best friend, her brother, but not the one other thing that she wanted.
She'd fallen in love with him.
It was all so easy for him. It was so easy to hide what he was whereas for her, if she lost her concentration, she turned back into a blue freak. She was sure, too, that his feelings for her had changed. All he wanted from her was pale skin and brown hair and a follower and, because of it, she hated who she was.
Until she met Erik.
Mun and muse are over 18.
---

Connect

People
[View Entries]

Communities
[View entries]

Member Of (23):
allmymemes
,
automatonfuture
,
autumn_memes
,
bakerstreet
,
club_id
,
dear_mun
,
fuckingjazzhands
,
liferuiners
,
love_hotel_ooc
,
medietas_comm
,
medietas_logs
,
medietas_ooc
,
memebells
,
memelicious
,
sexhibitionists
,
sixwordstories
,
smuttysws
,
superspecialcouchtime
,
the_love_hotel
,
theirlithium
,
whiskeymouth
,
xfactors
,
zandroid

Subscriptions (27):
allmymemes
,
automatonfuture
,
autumn_memes
,
bakerstreet
,
barrettes
,
club_id
,
dw_maintenance
,
dw_news
,
fuckingjazzhands
,
liferuiners
,
love_hotel_ooc
,
medietas_comm
,
medietas_logs
,
medietas_ooc
,
memebells
,
memelicious
,
memezilla
,
sexhibitionists
,
sixwordstories
,
smuttysws
,
superspecialcouchtime
,
the_love_hotel
,
theirlithium
,
westchester
,
whiskeymouth
,
xfactors
,
zandroid

Administrator Of (2):

Feeds
[View Entries]

Subscriptions (0)

Linking
To link to this user, copy this code:
On Dreamwidth:
Elsewhere: